Friday, December 31st, 2010
We're living in a time when money problems  are affecting almost everyone. Whether it's our own lack of money or that of our government, we have to deal with this.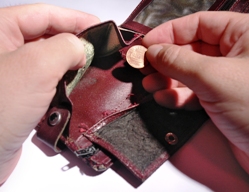 Are you allowing money problems to control your life?
What could you do instead?
Here are words of wisdom for you:
"Be thankful for what you have. You'll end up having more. Focus on what you don't have and you'll never, ever have enough." Oprah Winfrey
Why not replace your bad habits for some better ones?
I guess it was a few months ago when I first started a habit that I recommend for you.  What I now do almost daily when I turn on my computer is to go to TheHungersite.com     
On the Click to Give page of that website, I click to give free food which is paid for by sponsors of that website. This is such an easy way for me to help others who really need it. When you buy products from the links on The Hunger Site, you can help people who most likely have money problems far greater than yours. 
Be sure to save TheHungersite.com in your favorite websites so you can click to give free food daily.
5 More Good Habits for You to Start Today…
Did you like this post? Then show your appreciation when you click & tip. Thank you!