Need Help for Your Money Problems?
We're living in a time when money problems  are affecting almost everyone. Whether it's our own lack of money or that of our government, we have to deal with this.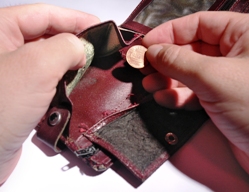 Are you allowing money problems to control your life?
What could you do instead?
Here are words of wisdom for you:
"Be thankful for what you have. You'll end up having more. Focus on what you don't have and you'll never, ever have enough." Oprah Winfrey
Why not replace your bad habits for some better ones?
I guess it was a few months ago when I first started a habit that I recommend for you.  What I now do almost daily when I turn on my computer is to go to TheHungersite.com     
On the Click to Give page of that website, I click to give free food which is paid for by sponsors of that website. This is such an easy way for me to help others who really need it. When you buy products from the links on The Hunger Site, you can help people who most likely have money problems far greater than yours. 
Be sure to save TheHungersite.com in your favorite websites so you can click to give free food daily.
5 More Good Habits for You to Start Today…
Smile as much as you can. Check out your smile as you look into a mirror. Try smiling often and see what happens. Let me know, okay?
Stand tall and walk tall with head held high, shoulders back, chest out and tummy tucked.
Say affirmations out loud in front of a mirror. Instead of saying something like "I'm so irresponsible with money", instead say "I am becoming more responsible with money." That can be a good affirmation for you to say morning and evening.
Write a list of what you plan to accomplish each day.
Instead of worrying, why not expect the best?
~ ~ ~ ~ ~ ~ ~ ~ ~ ~ ~ ~ ~ ~ ~ ~ ~ ~ ~ ~ ~ ~ ~ ~ ~ ~ ~ ~ ~ ~
"Uplifted and inspired       
Attracting to yourself
whatever you've desired
When you're uplifted and inspired
You're on your way to growing every higher"  
       ~ Lyrics from my song 'Uplifted and Inspired'
~ ~ ~ ~ ~ ~ ~ ~ ~ ~ ~ ~ ~ ~ ~ ~ ~ ~ ~ ~ ~ ~ ~ ~ ~ ~ ~ ~ ~ ~ 
What I've given you here are just some simple things you can do easily. But you probably need more help for your money problems.
Maybe you need more belief and scientific proof. For me The Belief Secret has been very helpful. I especially liked the chapter on The Mirror Technique for Releasing the Subconscious. Perhaps it will help you, too.
Till next time…
Wishing you peace, love and happiness,
Joyce Marie
Founder, LessonsFromLyrics.com              
P.S. Follow me on Twitter: http://twitter.com/LyricalJoyce
~ ~ ~ ~ ~ ~ ~ ~ ~ ~ ~ ~ ~ ~ ~ ~ ~ ~ ~ ~ ~ ~
To hear this post via Odiogo audio content reader, look just below the title of this post. Then click on listen now.
~ ~ ~ ~ ~ ~ ~ ~ ~ ~ ~ ~ ~ ~ ~ ~ ~ ~ ~ ~ ~ ~
This post and lyrics are copyrighted. You are welcome to reblog or link to this post or to give a link to it, but may not otherwise use the contents of the post without written permission.
~ ~ ~ ~ ~ ~ ~ ~ ~ ~ ~ ~ ~ ~ ~ ~ ~ ~ ~ ~ ~ ~
Disclosure:   Thank you for reading my posts. It's my pleasure to deliver inspirational stories and lyrics to you free of charge. Please note that whenever you click the links on this website or click on product images and then purchase items, I may sometimes receive a referral commission. Your support in purchasing through these links enables me to help more people to create positive changes in their lives which will bring more peace to our planet. I appreciate you for making a difference! 🙂
Did you like this post? Then show your appreciation when you click & tip. Thank you!
Tags: audio content reader, Joyce Marie, LessonsFromLyrics.com, lyrics, Money Problems, Odiogo, Oprah Winfrey, Peace. Love and Happiness, technorati, Twitter